What's the best approach? The foolproof methods to keep your SEO when redesigning a website?
And the chances that things go wrong are high:
indexing issues
traffic drop after the redesign
ranking going down
...
You need something like a... checklist. One that includes all the key elements to monitor during and after revamping your website, right?
This is precisely what you'll get in this post:
A 12-point list to check off along the way, so you can redesign your website without losing SEO rankings and traffic.
But Does a Website Redesign (Really) Affect SEO?
"If I change my website, will I lose my Google ranking?"
Yes, you stand all the chances.
Here are just some of the changes applied to your website that pose the biggest "threats" for your Google ranking:
you remove/change content
you change the current on-page optimization process
you change your URL structure
you change your domain/subdomain
you move content around, to suit your website's new sitemap or navigation structure 
From the:
updates that you make for improving the user experience on your website
to those aimed at rebranding
to those changes that you apply to your backend
... it all bubbles up to your SEO ranking, traffic, and overall long-term growth of your website.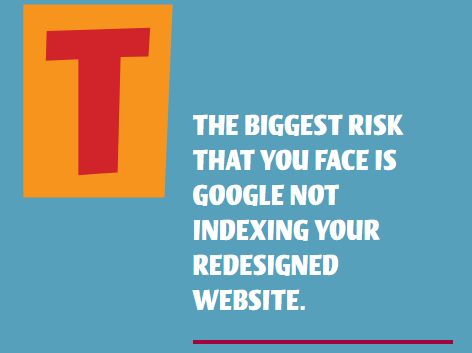 Step 1: Audit Your Current Website
This first step on your website redesign SEO checklist will help you gain a bird's eye view of:
what needs to be improved/fixed about your existing website
what are the high ranking areas that you shouldn't touch
Use Screaming Frog data to inspect your website and put together an inventory of all the:
duplicate page titles
missing, multiple, or duplicate H1 tags
missing Image ALT texts
broken internal/external links
missing or duplicate meta descriptions
page titles over 512 pixels
meta descriptions over 923 pixels
Furthermore, manually scan key elements like:
sitemap
URL structure
page loading speed (use Google's PageSpeed Tools)
duplicate content
Google-indexed pages 
robots.txt
Tip: download and back up the URL structure of your "old" website; you can use a plugin like Yoast SEO to download the updated sitemap of your website.
Step 2: Make Sure Your Test Website Is Not Being Indexed
For you don't want the risk of Google indexing your test website to add to the pile of... other things that could go wrong during the redesign process.
How do you prevent your test site from being indexed?
you either block it in the robots.txt file
or you click the noindex box in your CMS
Step 3: Match Up The Old and the New Pages to Keep Your SEO When Redesigning a Website
"How do I preserve rankings and traffic during a website redesign and rebuild?"
By making sure that the data on your current website — meta descriptions, word counts, canonical tags, etc. — remain as such on the new site, as well.
For this, crawl your test website and put it against the "old" website to identify all the "missing parts" and the areas that need improvement.
This is a foolproof method to ensure that the updates that you're about to make are truly needed.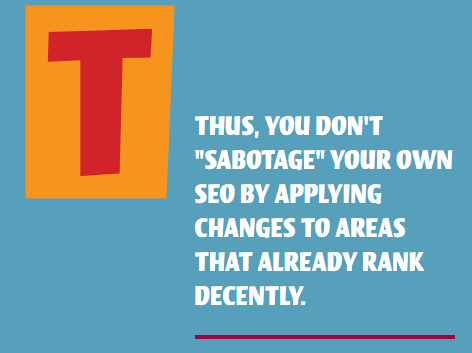 Step 4: Check Your New Website for Broken Links
Another critical step to put on your website redesign SEO checklist is crawling your new website for broken links. 
Use Google Webmaster Tools for this.
Step 5: Address The 404 Error Pages
One of the major website redesign considerations to keep in mind is that you'll need to handle the 404 issues popping up on your new website.
There are 2 ways that you can address a 404 URL:
redirect the old URL to the new URL of your test server
set up this URL on your test server
Step 6: See that Your Live URLs Are Optimized, As Well 
A foolproof method for keeping your SEO when redesigning a website is to make sure that those live URLs, that aren't yet on your current website (the most recently added ones) are properly optimized.
Just use the following on-page optimization checklist, which includes all the key areas where you should add your focus keywords (or semantic keywords):
page title tag
H1 tag
page URL
H2, H3, H4 tags
meta description 
body content 
image ALT tag
Step 7: Keep the URL Architecture Identical 
Since the SEO impact of changing URL is huge.
Do you remember that you've downloaded the URL structure while auditing the old website (see Step 1)?
Make sure to back it up and stick to it after the redesign process, as well.
Step 8: If Some of Them Do Change, Set Up 301 Redirects
If the unwanted scenario does happen and some of your URLs do change, keep in mind to map out 301s to their corresponding new URLs.
That, if you do want to preserve your rankings and traffic, of course...
How?
by manually updating your .htaccess file: Redirect301/old/oldsite.html http://www.yoursite.com/newurl.html  
by using a redirect plugin: the process is no more complicated than filling in a form
Step 9: Leave the Content Unchanged on Your High Ranking Pages 
One of the things to watch out for in order to keep your SEO when redesigning a website is the "temptation" of changing content on your high ranking pages.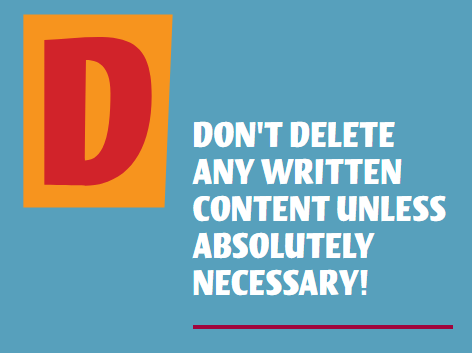 Tip! A safe way to redesign your website without losing SEO is to make changes to the pages' design elements only. Once you've launched the new website, monitor your rankings for a while and, unless you notice some alarming drops, go ahead and apply (some) changes to the written content, as well (if absolutely necessary).
Step 10: Check Your Robots.txt File
Make sure that your robots.txt file didn't get corrupted during the website redesign and rebuild process.
Just click on the "robots.txt" option under the crawl section.
Step 11: Resubmit Your Sitemap to Google
A key step to take for avoiding new website Google ranking issues.
Submit your new website's XML to Google (and Bing) so that its new structure gets crawled and indexed in due time. 
Step 12: Check and Monitor Your Ranking Position
So, you've finally launched the improved version of your old website. Your team's hard work over the last few months is now live.
Still, you'd better remain vigilant and monitor your new website for 2-3 more months.
During this time:
keep track of how your top keywords are ranking
make sure Google's not indexing the wrong pages for those keywords
be ready to detect any sudden drop or... boost in your website's Google ranking
Take this monitoring time as a way of... futureproofing all the efforts you've done to keep your SEO when redesigning a website.
But maybe you are, indeed, planning to give your website a facelift and a performance boost. And yes: you do worry that this might affect your SEO rankings and traffic.
Yet, you want some professionals — a team of experienced web designers, web developers, and SEO experts — to handle your website redesign process. 
We're ready to help you.
Just drop us a line and let's plan an SEO-oriented redesign process for your website.


Image by k-images from Pixabay  

We do SEO
Go to our SEO page!
Visit page!