They're not there for the looks, you know. Users come to your website to search for... something — a product, a service, information. Its role is to make it easy for them to find that "something" via its search engine. But how to improve internal site search and "shorten the time between query to conversion"?
What are some best practices when adding search functionality to your website so that:
it serves up the most relevant search results?
it reduces user-friction?
it provides the best search experience?
it helps users to convert faster?
Here's your 12-step checklist to an effective on-site search:
Why Site Search Is Important?  
"Adding on-site search to your website increases conversions by 480%!" (Neil Patel). 
Just think about it:
The user's found your website (your SEO efforts have paid off). It's something specific that he's looking. Or he at least has some idea of the type of products/services that he's there for.
Now, why would you want to make him go over... 5 different pages of results before he reaches that service/product page that he was looking for in the first place?
Instead, your website's search engine should help him out with:
search suggestions
autofills
real-time preview of search results
Like Office Depot here, whose on-site search engine gave me plenty of search suggestions when I looked for a "chair":
Step 1: Put It Front and Center
One of the powerful internal site search best practices. But also the most ignored one.
Don't be that website owner.
Instead, put your search box where users can see it the instant they get on the web page:
besides the navigation
right below the navigation, as a distinctive element
above the navigation
in the header
Take Zara's example here: how long does it take you to find the search box on this page?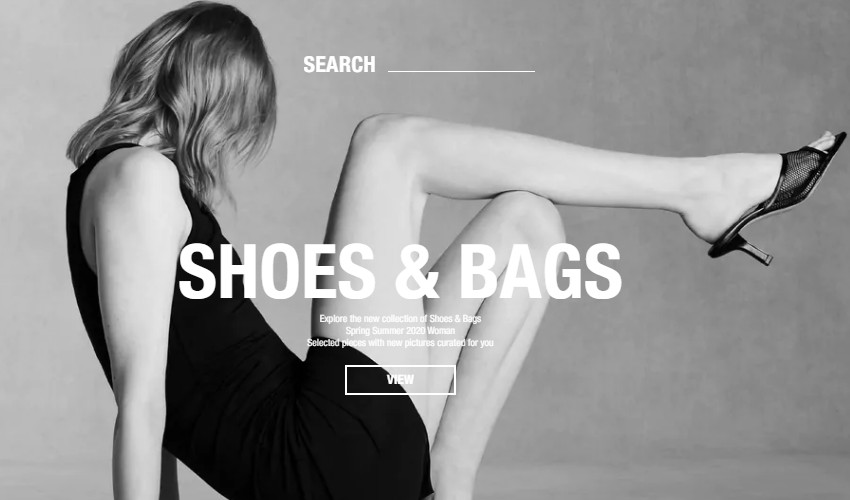 Step 2: How to improve internal site search: Make It Easier to Navigate 
And what better example than Google's Search Engine itself?
You just can't miss it on the page. Moreover, search results are grouped into different categories — images, videos, news — lifting some of the burdens off your shoulders as an online "searcher".
It'll even turn your misspelled search queries...
Key takeaways:
consider using tabs by categories to make the user search experience as breezy possible
make the most of keyword matches
... and assistive technologies
It's all about shortening the time from the user's query to... conversion, remember?
Step 3: Boost Your Site Search Engine with Product Metadata
"How to improve search functionality?"
By forgetting all about the "meta tags have no impact on SEO" principle and starting to add relevant product metadata.
For yes, they do not count for traditional search engines, yet they have a huge impact on the way that your on-site search engine finds any product in your inventory.
So "feed" it metadata: titles, tags, attributes, categories, descriptions, specific keywords that your target customers will enter...
Step 4: Cater to All Kinds of Searches
There'll be users who know exactly what they need. So they'll be typing the exact product/serial number in the search box.
And there'll be users who have heard of an innovative, newly launched product in passing and will misspell its name.
Make sure your on-site search will serve up relevant results for both types of user profiles:
turn the product/serial number into a search criterion
make sure your on-site search turns relevant results on "misspelled queries", as well 
Step 5: "Fuel" Your Internal Search Engine with Long-Tail Keywords  
"How to improve internal site search?"
By optimizing your website copy for long-tail keywords (3-5 words).
The more you use, the more power you'll inject into your search engine.
Let's take this example:
You go to Office Depot's website looking for an office chair. Chances are that you're trying to find something more specific than a "chair". You want it to be... grey, ergonomic, made of leather or mesh.
You get the idea.
You're not looking for a generic "office chair". 
Now, switch from your role of potential customer to that of an online owner and start optimizing your website copy for long-tail keywords.
They still have most of the search volume.
Step 6: Give Users Multiple Filtering Options via Faceting 
Add multiple categories to help users filter through generic query results. 
This way, you enable them to make their way to more specific results.
This internal site search "best practices" becomes a must-have if it's an:
eCommerce website
with a large inventory
... that you have.
A customer won't spend half a day looking for a "green cotton t-shirt for girls size XS", digging through dozens of result pages.
Take H&M's example here: they're using faceted search options to help me narrow down my options when I type a generic query like "shirt".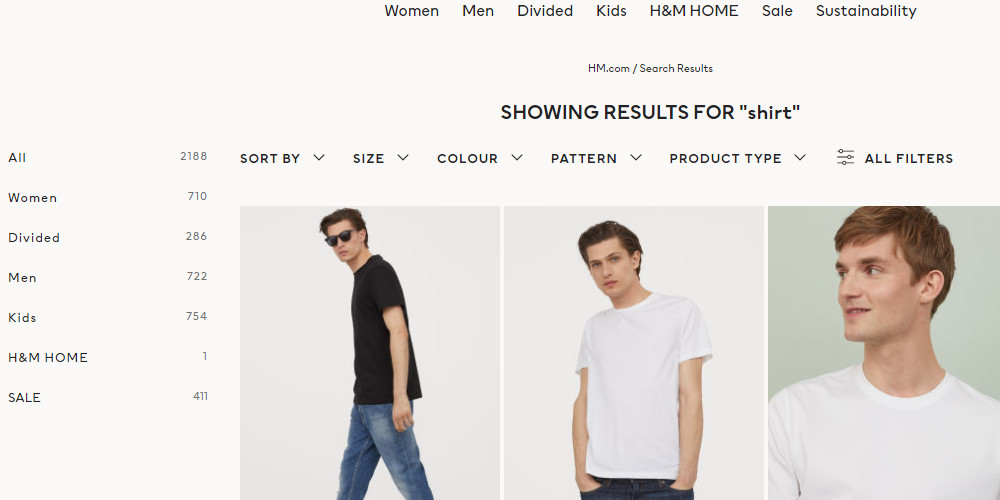 Step 7: Tailor the Search Experience As Per the User's Location
"How to improve internal site search?"
Localize your website content.
Or, in plain English: add regional dialect and idioms to your copy.
And you'd also want to include "popular searches in your... (name of the region)".
The whole idea is to:
personalize the search experience, making it more user-friendly
help the user find what he's searching for faster (and to convert faster, as well)
Even if he's using a dialect-specific word or phrase as a search query.
So, start building a list of synonyms for your search queries and use them to improve the search functionality on your website.
Step 8: Implement In-Search Filtering
Go beyond autocomplete if you want to provide the best search experience to your potential customers.
In this respect, advanced in-search filtering is one of the most powerful on-site search features.
Take this example:
Someone enters "sneakers" in your search box. You'd want to give him/her more search options, more specific suggestions like "sneakers in men's clothes" or "sneakers on sale"...
Again, a must-have on-site search feature if it's a large eCommerce website that you have.
Step 9: Add Informational Content, As Well
Not everyone on your website is there to buy something from you. 
Some of them are looking for specific information on your products.
So, another effective way of improving search functionality on your site is to you ensure there's enough info-rich content for these users to dig into.
Step 10: Serve Targeted Search Results Based on User Behavior Data
Here's another answer to your "How to improve internal site search?":
Make the most of previous user behaviour to serve targeted search suggestions.
Rely on users' profile log information to:
identify distinctive patterns and tailor your recommendations accordingly
identify regional phrases (e.g. "soda" instead of "coke") and use them to personalize your suggestions
Step 11: Give Users More Control Over the On-Site Search Results
How? By giving them:
categories to filter through their search results
drop-down menus
brand names that they could use as search criteria
a personal search results page where they can keep track of their past activity and use quick search options based on their past behavior
Step 12: Serve Relevant FAQs on Every Search
Another effective and easy way to optimize search function on your site is to display FAQS at the end of each search
This way, users get more information about the product features/price/specific fees/brand that they're interested in.
Tailor these lists of questions to the user's past behavior and query data and turn personalization into your most powerful ally.
The END!
Maybe you do want to increase the conversion rate on your website, but without having to:
optimize heavy of loads content for long-tail keywords
get tangled up in user data to track down all the regional words variations 
write metadata for... hundreds of different product pages
We get you. And we've got your back.
Just drop us a line and let's improve your on-site search so that you stop leaving conversions on the table.

We do Web development
Go to our Web development page!
Visit page!