PDFs, infographics, icons, logos, fonts, videos... How complex is your "ecosystem" of creative digital assets? And how easy is it for your team(s) to manage it efficiently? If it goes from challenging to... cumbersome, then you might consider switching to Acquia DAM.
"But would it pay off to make the move to a cloud-based digital asset management software?"
To answer your own question, ask yourself further:
 
"What if all designers, content creators and marketers in my company were always on the same page? On a shared platform?"
 
"What if no one in my team(s) saved brand assets locally, but on the cloud instead? On a centralized cloud-based location?"
 
"What if managing my heavy load of digital assets could get as efficient as... having one single repository for all my assets? One that all my teams can access anytime and (from) anywhere?"
 
Now, what if Acquia DAM was the answer to all these... daring "fantasies" of yours?
Here's:
 
what this tool is
how it can streamline your content pipeline
what are its most powerful features
how you can get the most of it (since any software can only be as good as its users, right?)
 
1. What Is Acquia DAM?
It's a digital asset management system that acts as a central storage location for all your assets, allowing everyone in your company to:
 
access them, irrespective of their locations
keep track of them
organize them
update them
share them
 
... with great ease.
Here's a short demo of Acquia DAM "in action", streamlining the most common asset management tasks that your creative teams usually perform.
In short: imagine your current infrastructure of various platforms, personal computers, various channels, multiple stakeholders involved in the content process, devices, and repositories reduced to one single place on the cloud.
A cloud-based repository where all your different teams — marketing, design, content — can store and update all your creative assets.
The 2 most obvious benefits that you'll "reap":
 
you'll deliver a consistent brand experience
you'll speed up the content production process
 
2. What Are Its Most Powerful Features?
For, OK, it boosts your content pipeline:
But what about those robust features and functions that it ships with? The key ones to look look for and to trigger, to be sure that your teams use this DAM solution to its full potential?
 
2.1. Centralized Digital Asset Library
Instead of an intricate network of repositories — Dropbox, Google Drive, email, local or network hard drives — you'll have one single storage place on the cloud.
One repository for all your creative assets, that everyone in your organization can:
 
access and use to create unified digital experiences: no need to waste precious time looking for a specific branded image created... years ago
update, making sure that there are no out of date licensed assets left lingering in there
 
All your assets in one place, syncronized, current, approved and... easily accessible.
 
2.2. Workflow Management
The more the... merrier?
Not in the context of a high volume of assets and lots of people, from multiple teams, engaged in the content production process.
Luckily, using Acquia DAM's workflow management your design and marketing teams can keep a close track of everyone's step in the process.
From asset creation, to update, to review and final approval, an ideally formalized workflow will speed up your entire asset management process.
 
2.3. Portal for Publishing Approved Assets
That's right: Drupal Acquia DAM enables you to set up your own portal site for sharing brand guidelines and approved assets.
With approved rules and presets for image processing at hand, your non-designers gain a higher level of independence.
Which can only translate into a streamlined content pipeline.
 
2.4. Dynamic Templates
A feature aimed at the same goal:
Empowering your non-designers to update graphical design elements on their own.
Swapping images, editing text field, all while preserving the approved branded design elements — logo, font, colors — gets so much easier for them when using these dynamic templates.
Now, some other equally powerful features to incorporate into your asset management process are:
 
Scheduled Publishing
Enhanced search
Custom Metadata Fields
Audit Report Logs
Custom Form Fields
Metadata Group Permissions
Version controls
 
3. Why Use It? What Content Production Challenges Does It Solve?
In other words:
Would switching to Aquia DAM pay off?
Now, here's a scenario that might be (too) familiar to you:
You're dealing with... loads of assets in your organization. They get shared in Google Drive or Dropbox, updates get approved on various chat channels, specifications added to Google Docs... It's a chaos of technologies and tools that you're storing, organizing, tracking and repurposing your assets in.
Have I "guessed" right?
Then this is why you should consider implementing a digital asset management software like Acquia DAM.
To cut off all the inefficiencies that derive from such a cumbersome patchwork of disconnected tools and processes:
 
the time your teams would waste looking for a specific asset that seems to be lost in this "black hole"
the money you'd lose whenever someone in your team decides to... recreate an asset that's... "gone missing"
the risks you expose your brand to by using images with expired licenses
the bad reputation that you gain by... accidentally sending older versions of your assets to your clients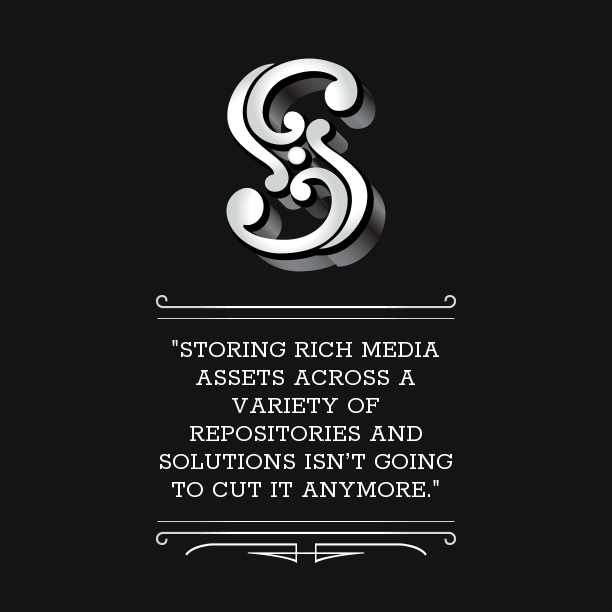 Source: Acquia.com

Now, let's sum up the main benefits that you'd reap from taking the leap to Acquia DAM:
 
highly accessible assets: for everyone in your team, anytime, from anywhere on the globe
increased system performance
significant marketing and IT resource savings
increased governance and control of your entire ecosystem of digital assets
synchronous brand message: your design and marketing people will better coordinate their efforts
 
4. How Can You Sync Your Assets with Your Drupal Site? Acquia DAM Drupal Integration
It's simple:
You use the Acquia DAM Connector for Drupal.
This way, you can use the assets stored and updated on your Acquia DAM instance across all your Drupal websites.
Just visit Acquia'as dedicated page for info on the right version to download, depending on the version of Drupal running on your website(s).
 
5. How Can You Import Your Assets to Drupal? The Media: Acquia DAM Module
Say you're storing your creative assets to Acquia DAM:
How do you move them to your Drupal website?
For, it's there that you'll be... putting them to use, after all.
You install and enable the Media: Acquia DAM Drupal module.
What it does is:
 
provide you with tools for scanning your DAM system for specific assets and pair them with their corresponding Media entities; with their corresponding entities on your Drupal website...
ensure that your selected assets, along with their metadata, get instantly synch whenever you're making changes in the DAM
 
6. How Can You Build Apps Using the Drupal Acquia DAM? Acquia DAM API
Say you need your developers to safely read and write from your DAM so that your users can easily push and pull their files and metadata.
You need unrestricted access to some of Acquia DAM's most robust features: upload, file sharing, search.
In this case, Acquia DAM API provides you with the underlying interface for building the apps that'll tap into your DAM tool's power.
 
7. How Do You Integrate It with Your Other Services? Acquia DAM Integrations
For there must be all kinds of services and platforms that your teams are currently using, for storing your assets and authentication.
You just browse through the list of popular services that Acquia DAM provides integrations for and pick the right ones.
 
The END!
How does your digital asset management system look like? Have you considered switching to a DAM solution?

Do you find Drupal Acquia DAM's features and benefits powerful and relevant enough for your specific content pipeline?


Image by PublicDomainPictures from Pixabay  

We do Drupal development
Go to our Drupal page!
Visit page!