Looking for a Drupal 8 rating module that should be:
 
easy to install
easy to configure
easy to use
conveniently flexible
and user-friendly?
 
And maybe you "crave" for some nice-to-have features, as well:
 
enabling users to add a short review
multiple ratings: enabling users to vote on several aspects of your product/service, such as price, quality, ease of use?
 
What are your options? What working (and stable) modules for rating and reviewing are there in Drupal 8? 
We've done the research for you, evaluated all the modules for rating in Drupal 8, and come up with a list of 6 best... rated ones:
 
Keep in mind that this Drupal 8 rating module doesn't provide a voting mechanism, packed with all the key voting features. Instead, it structures the voting data for other rating modules to leverage.
What it does provide you with is a standardized API and voting data storing schema. Therefore, it streamlines the whole process of retrieving and organizing the voting results for various pieces of content on your Drupal 8 website.

Top features:
 
multi-criteria voting
caching the voting results (and it does that in a highly efficient manner, with no need to recalculate them...)
enables users to rate any type of content on your Drupal site (users, comments, nodes)
automatic tabulating of the voting results
 
Note: keep in mind that, for now, we only have a pre-release version of the module for Drupal 8...
 
2. Flag Rating, A Highly Popular Drupal 8 Rating Module 
An extension of the Flag module, that allows you to either:
 
use the default SVG icon 
upload your own icon (jpg, SVG or PNG) for each flag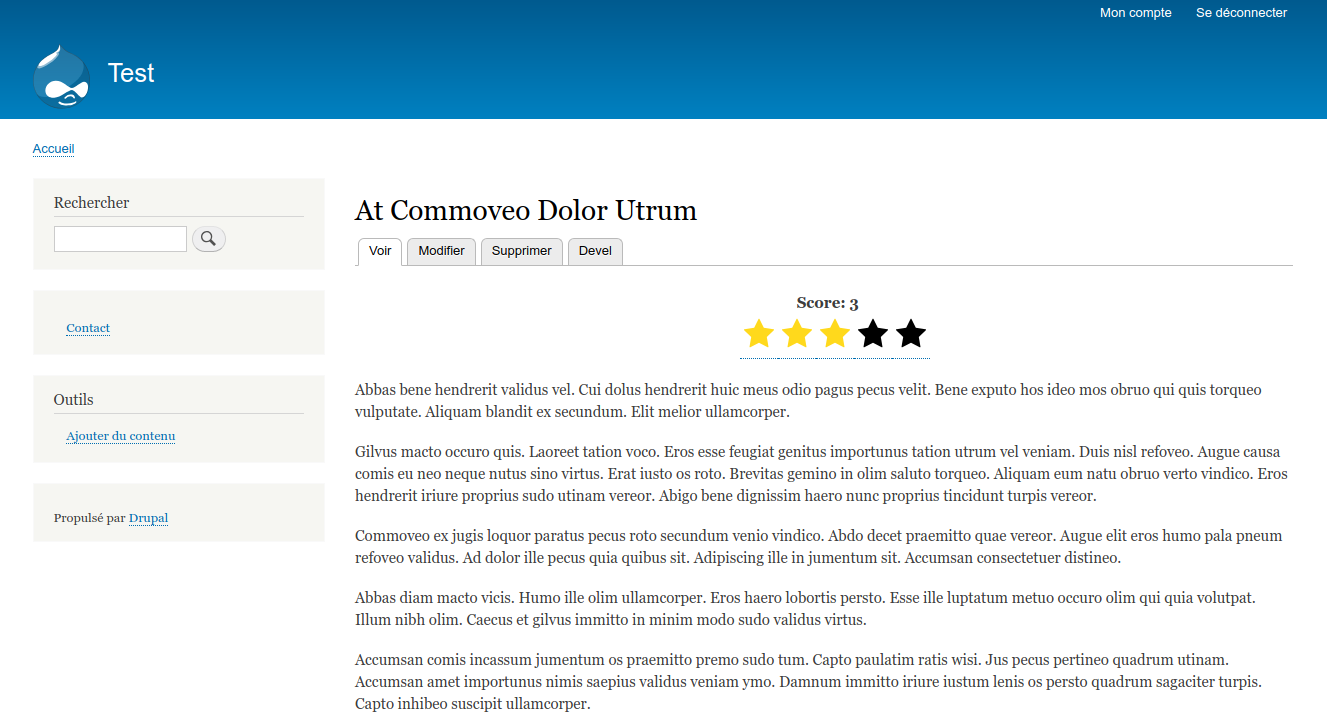 Furthermore, you even get 2 templates to override to your liking:
 
flag-rating.html.twig
flag-rating-icon.html.twig
 
A Drupal 8 rating module that you can use to turn the "select tag" option of the Star Rating module into a more user-friendly, clickable icon.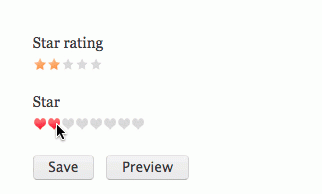 To "unlock" its functionality just:
 
navigate to Structure > Content type
select the "Manage form display" option
scroll down to your star rating field
click "Star rating clickable"
in the Settings screen, configure the custom display to perfectly fit your needs
If you're looking to integrate a voting functionality exclusively for the authors of the articles submitted on your website (hence, not for the end users), Flag Rating is the module you're looking for.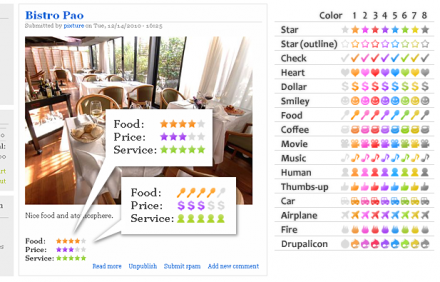 Take it as a simple, yet useful module that provides you with a display formatter and a star rating field. In short: with the "bare necessities" for the authors to be able to rate the uploaded articles.
Say you have a review website — a hotel review website — and you want to add multiple star ratings to a node:
 
customer service
en suite and private facilities
food, etc.
 
... with a different icon for each node. Then, you just need to use the star rating field that this module provides...
Top features:
 
built-in support for the Views module
it doesn't require other modules (e.g. the voting API module) to work
it allows you to add a different icon type per field and per view mode
 
The Drupal 8 rating module that simplifies the entire voting process: it encourages users to express their votes through an intuitive thumb illustration.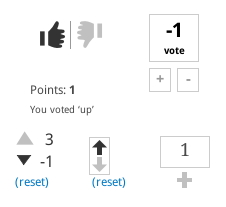 Top features:
 
code voting support for your pre-defined products/services
interchangeable themes for your voting widget
the possibility to set up your own custom widgets using ctools plugins
 
The END!
These are your 5 best options when it comes to working Drupal 8 rating modules that should be both easy to configure and easy to use. 
Have you discovered other ways of integrating a reviews feature to your Drupal 8 website?


Image by mohamed Hassan from Pixabay  

We do Drupal development
Go to our Drupal page!
Visit page!