Disliked by users, controversial, yet a constant presence on WordPress websites and a holy grail of high conversion rates if leveraged in the right context... But how do you know which of the best popup plugins for Wordpress is the perfect match for your own use case?
Well, you first identify your expectations in pop-ups. What exactly are you looking for in a popup plugin?
 
out-of-the-box responsiveness?
a handful of highly customizable templates and design features to choose from?
smooth integration with the software that you're currently using on your WordPress website?
a dead easy to use, drag-and-drop popup builder?
page selection and trigger option features?
that it should be conveniently lightweight and fast?
real-time analytics?
advanced targeting options?
A/B testing functionality?
 
Once you've articulated your needs, start digging into this shortlist of 5 best rated Wordpress popup plugins in 2019: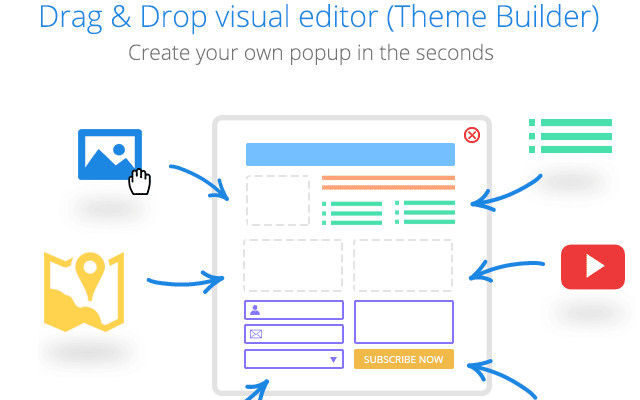 If you're looking for one of the best popup plugins for WordPress that should:
 
provide you with a solid, yet conveniently lightweight drag-and-drop-builder 
… one that enables you to easily set up and fine-tune your popups in the slightest detail (even if you have zero coding experience)
ship with tons of features to choose from
allow you to either create your custom popup from scratch or to choose out of a large collection of built-in popup themes
 
… then Ninja Popups is the plugin that meets all your specific requirements.
It's powerful, loaded with advanced features and flexible enough to empower you to customize your popup till it perfectly fits your needs. You even get to select the color and size of your popup.
Other key features:
 
A/B testing
responsive
highly flexible
enhanced customization
a data-rich analytics page
+74 animation options
+73 pre-built themes
an easy to use visual builder
 
Note: if lots of customization power is too overwhelming for you, you can always opt for its more lightweight builder and simply place your text inside one of its pre-made templates...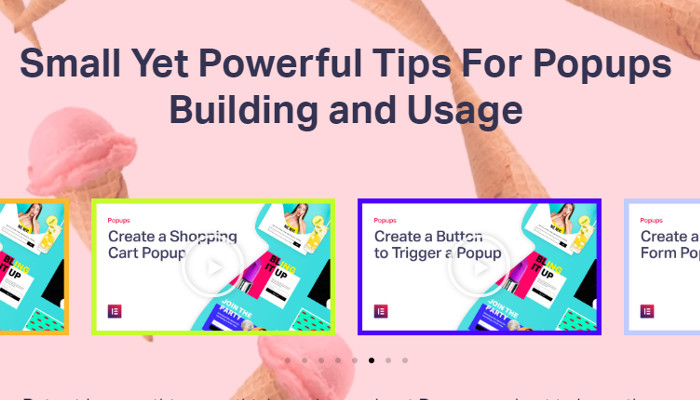 Elemenentor Pro makes another great option if the popup that you want to create is more complex than... an email opt-in, for example.

Just like the Ninja Popups plugin, this one, too, allows you to build both:
 
popups from scratch, from a... blank slate, that you're free to custom-tune to your exact needs
popups on top of one of its already pre-made templates (and it ships with +100 of popup templates...)
 
Full control over your popup and unmatched flexibility, thanks to all its robust features, from which its trigger/targeting options help it stand out.
For example, you get to configure it so that it triggers your popup:
 
after a defined number of sessions
after a defined number of page views
based on scrolling, exit intent, clicks, inactivity, page loading
 
Furthermore, you to target specific content on your WordPress website where your popup should get triggered:
 
specific blog posts
specific post formats and types
certain authors, tags, categories
specific devices
user logged-in status
 
Also, the types of popups that you get to build with Elementor Pro range from:
 
modal forms
to full-screen overlays
to top/bottom notification bars
to slide-ins
 
And the list of options doesn't end here. It's not for no reason that this is one of the best popup plugins for WordPress. It provides you with an extensive range of styling options and widgets to include in your popup:
 
registration forms
buttons
contact forms
countdown timers
 
Notes:
 
it integrates seamlessly with WooCommerce
you can configure it so that it triggers your popup for non-logged-in users only
its most notable limitation is analytics: it doesn't provide you with A/B testing functionality and built-in analytics tools
 
3. OptinMonster, One of the Best Popup Plugins for WordPress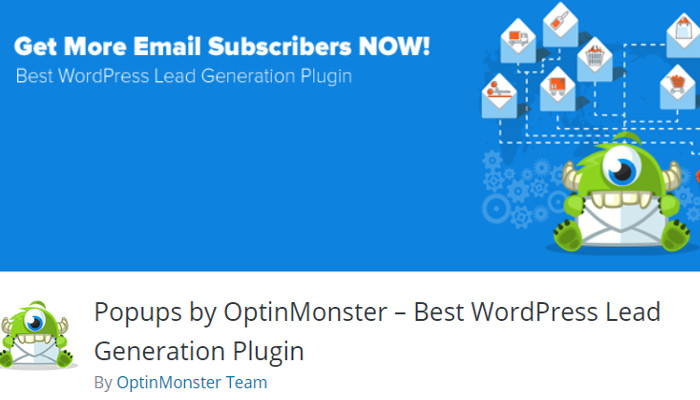 "Flexibility at its best" must be the most accurate definition for this popup builder:
 
it provides you with an extensive range of targeting and triggering rules
… an easy-to-use, drag-and-drop editor
… loads of functionality to scan through and to choose from
 
Like the other WordPress popup plugins on this list, it enables you to either build your popup from the ground up or to tap into one of the pre-built templates...
Powerful trigger features
 
exit-intent triggers; and this functionality is its "specialty": it tracks and analyzes your website visitors' browsing behaviors to determine when they're most likely to leave a specific page so that it triggers the popup
user inactivity
time
click (two-step opt-ins)
 
Advanced targetting features
 
you can adapt your offers based on whether the targeted user has already converted on one/some of your popups or not; no need to "bug" one of your website visitors with an email opt-in if he/she has already signed in to your list...
you can target your popups by cookie, adblock usage, referrer, page, new vs returning visitors, device
 
Moreover, its easy to use builder, loaded with tones of advanced features, allows you to create other campaigns, as well, not just popups:
 
footer bars 
in-line forms
floating headers
scroll triggered boxes
welcome gates
slide-in forms
 
Other "tempting" features:
 
A/B testing
widgets that you can select from to put together your popup
you even get to configure your popups to be triggered at specific times
it "plays well" with your email marketing software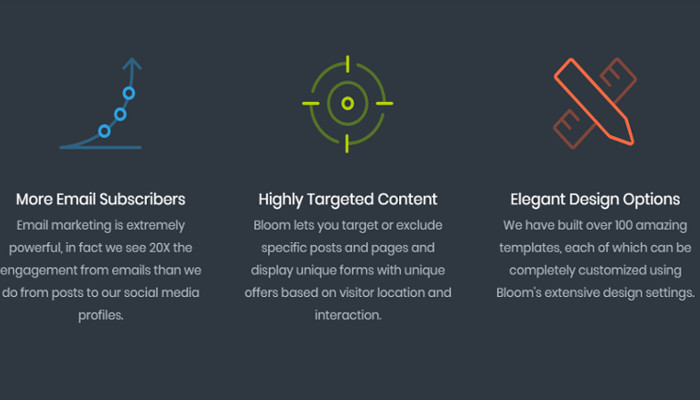 It's with the visually-appealing interface that Bloom manages to set itself apart from the other 4 best popup plugins for WordPress here.
But also with the lack of some key features:
 
it doesn't ship with a popup builder, so you can't use it to create popups from scratch
it's designed precisely for email opt-ins
it doesn't provide an exit-intent trigger option
it offers fewer targetting features compared to the other WordPress plugins listed here
 
Nevertheless, you can still choose from over 100 pre-built templates and customize the:
 
text
borders and edges
colors
form details
animations
images 
 
Also, since I've mentioned that email opt-ins are its specialty, here are the 6 ways that you can display them when using Bloom:
 
as inline opt-in forms
as widger area forms
as automatic popups
as required opt-in for content unlock (you can restrict access to premium content on your website, thus encouraging users to opt-in first...)
as automatic fly-ins
as below content forms
 
Its most "luring" features:
 
a great-looking dashboard
it allows you to set up view analytics
A/B testing
some unique trigger options (that I'll talk about in a bit)
 
Trigger features:
 
scroll depth
inactivity
time
after purchasing triggers: you can display a popup as soon as the user has completed the checkout process
after commenting triggers: you can display a popup after one of your website visitors has submitted a comment
 
Content targeting features:
 
by specific posts 
by post types
by post categories
Another great choice if you're more into tweaking pre-built templates rather than building popups from scratch.
And we're talking about +100 templates to "delve" into. Once you've selected the perfect one for your popup, feel free to leverage the real-time customizer to tweak its:
 
colors
animations
form field/labels
text
 
Not really fond of the idea of merely customizing a pre-made template? Then you can always upgrade to Convert Pro and get your drag-and-drop builder...
Now, here are some of the types of popup forms that you can create using ConvertPlus:
 
email opt-ins
sidebar widgets
notification bars
full-screen popups
slide-ins
top/bottom bar information
sticky boxes
 
Key trigger options:
 
exit-intent
user inactivity
time
scroll depth
launch after content (triggering the popup only after the user has reached the end of the content in question)
click (for two-step popups)
 
Finally, ConvertPlus includes detailed targeting/trigger options, as well as built-in A/B testing and analytics to help you optimize your popups.
Main targeting options:
 
logged-in users
referrer detection (you can build popups specifically for visitors coming from a partnering website)
device
page level targeting
new vs returning visitors
 
Other robust features:
 
+700 fonts to select from
custom CSS, background settings, animations
real-time analytics
it integrates seamlessly with Zapier, WooCommerce, Contact Form 7, WP Registration Form
 
The END!
These are the 5 best popup plugins for WordPress in 2019. Those that:
 
ship with tons of powerful trigger/targeting options
grant you full control over the look and feel of your popup
 
Image by OpenClipart-Vectors from Pixabay

 

We do Wordpress development
Go to our Wordpress page!
Visit page!