Conveniently customizable, ideally flexible and unexpectedly feature-rich... No wonder that you consider moving your site to Magento 2. Or having your brand new e-commerce site built on the latest version of Magento. And now you must be wondering: which are the best free Magento 2 themes to choose from?
And let me guess, your "feature wishlist" goes something like this:
 
responsive (it goes without saying)
functionality-rich
visually-appealing
flexible enough 
capable to accommodate both medium and large-sized online store (you need to consider your growth plans, too, when choosing your theme, right?)
 
Oh, and yes: most probably time is not your best ally, am I right?
Therefore, you can't afford to invest too much of it in comparing, weighing pros and cons, setting up a never-ending list, then trimming it down to the very best themes for Magento 2.
Well, no need to, for I've got your back!
Here's a top 10 for you, including only those themes with the best user reviews, themes that strike the perfect balance between great looks and powerful functionality:
 
Feature-packed, fully responsive and... free of charge. What more could you possibly ask for your theme?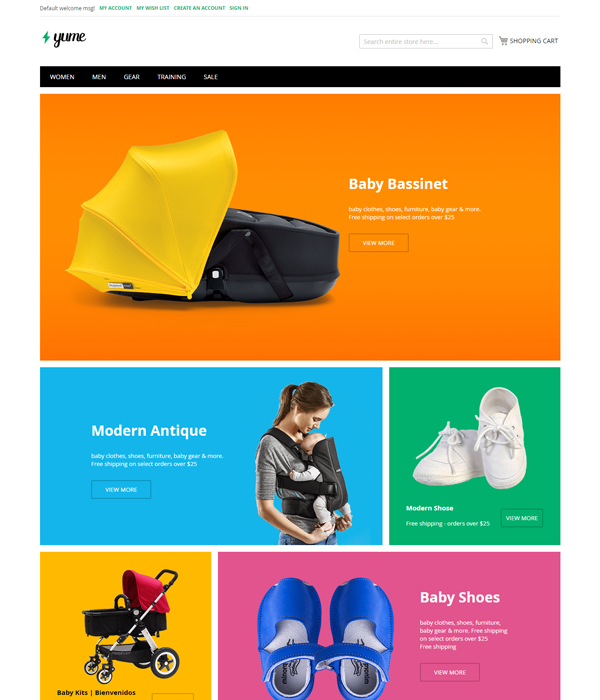 And speaking of its features, although they do come with no price tag on, they're unexpectedly powerful. For example:
 
gallery image product detail
off-canvas menu & header link
Ajax cart
checkout improvements
font awesome
a handful of static blocks
 
In short: a full-collection of features and functionalities for providing both rich and convenient online shopping experiences to your customers.
 
If it's a sleek & clean web design, suitable for a professional e-commerce site, that you're aiming at, then F2 is the theme to power your plans with!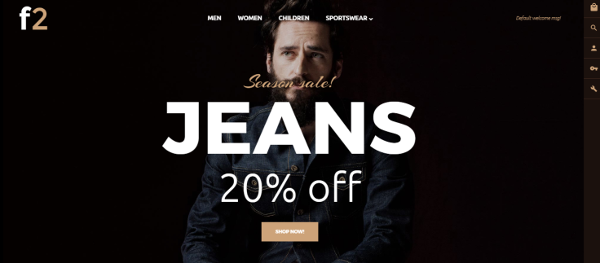 One which — although designed by the latest web trends — doesn't trade functionality for visually-striking looks. 
And speaking if its features, let me point out to you the most tempting ones:
 
responsive design
sticky header
drop-down cart
multiple product types
configurable swatches
 
Moreover, it's one of those best free Magento 2 themes that are surprisingly flexible, as well. You're free to adjust it to perfectly fit your Magento project's type and size.
Tip: where do you add that —  although looks play a major role here—  F2 is NOT overburdened with visual effects. Effects that would negatively impact your online store's performance!
 
3. Best Free Magento 2 Themes: Ketty, One of the "Oldest" Ones, too
"Oldies, but goldies!"
For, even if it's one of the "oldest" Magento 2 themes, Ketty's packed with some truly powerful features. And thus capable to "rival" much newer/younger themes.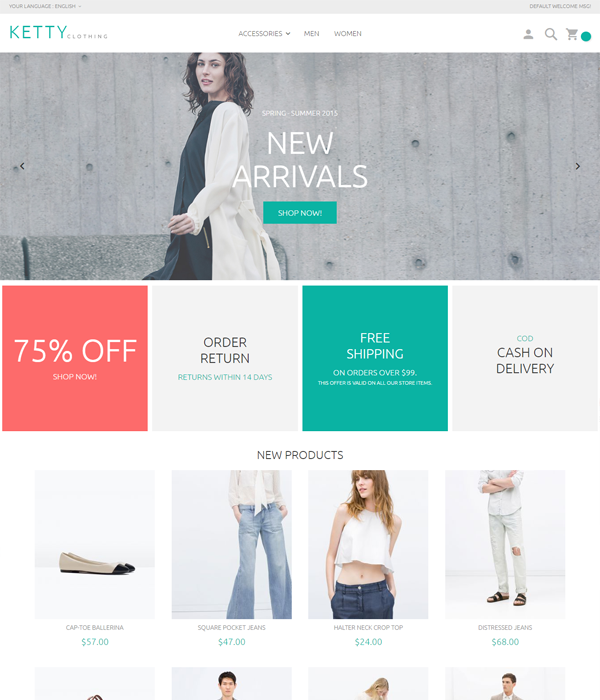 Now, if I am to highlight some of its attention-worthy features:
 
Ajax cart
product zoom
user-friendly admin panel with a new design
highly customizable
configurable swatches
improved checkout
cross-browser support
 
Also, F2 is one of the responsive Magento 2 themes, in case you were wondering...
 
One of Magento's "star" themes for 4 years now, Absolute's now available for Magento 2, as well.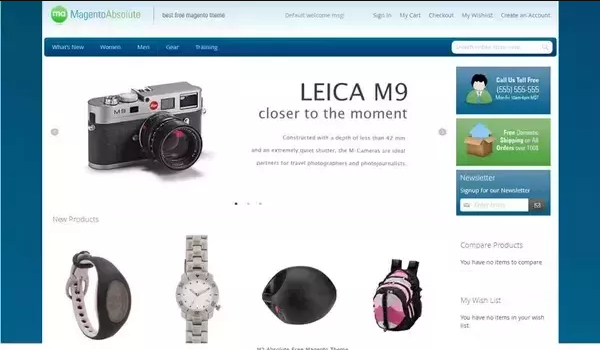 A highly professional theme overloaded with options to suit your every feature need. If I were to name just some of these hard-to-resist-to ones:
 
image slider
theme editor
featured product slider
newsletter subscription
my cart and compare product blocks on the homepage
quick product overview
 
A responsive theme that has already earned itself a "reputation" among Magento users, conveniently packed with features to answer all your e-commerce requirements.
 
BizKick's made it to almost all users' personal lists of best free Magento 2 themes.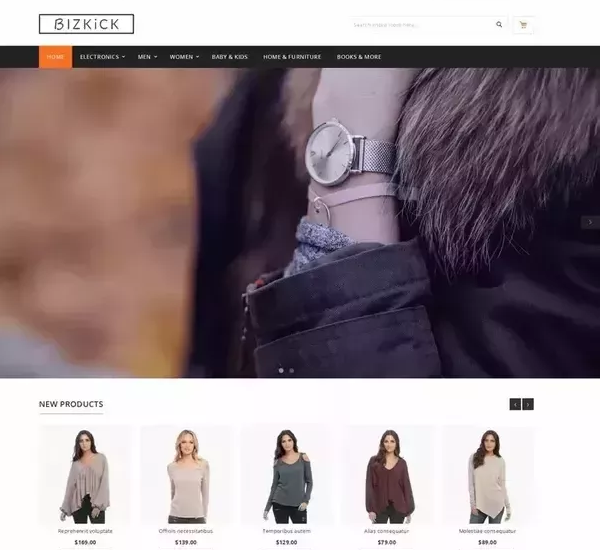 And for 3 strong reasons:
 
it's responsive
it "spoils" them with a whole collection of advanced features
it "tempts" them with a handful of clean and classy layouts

 
Is it health spa services, glasses, beauty products, handbags, shoes or maybe clothes that you'll be selling on your Magento 2 e-commerce site?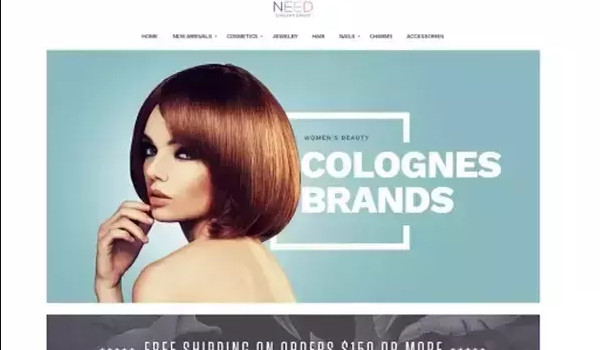 Then you might want to consider Ves Need. 
It comes with an elegant, neat & clean design that will surely appeal to your (mostly) female audience.
And where do you add that it's free, too!
 
Designed with the customer's needs and expectations in mind, Ves Fasony is a responsive theme for Magento 2 built with Bootstrap 3.x.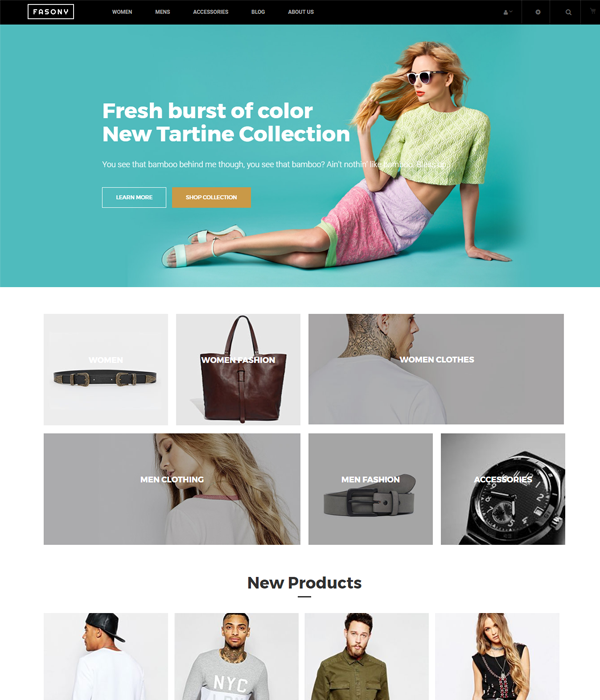 The key reasons behind its listing on this exclusive top here — featuring the very best free Magento 2 themes —  are the following:
 
it's built with online customers' needs and expectations in mind; it anticipates their requirements and delivers an amazing shopping experience
it's optimized for touch drag and drop
it comes with an owl carousel controlling the image slider
 
Moreover, Ves Fasony's ideal for women and men fashion, watches and bags stores. So, do keep this aspect in mind when you're evaluating the themes listing in this top, looking for the one that best fits all your e-commerce requirements.
 
8. FreeGo, One of the Best Free Magento 2 Themes
It has the functionality — since it comes packed with a full set of powerful features — and it sure has the looks: a clean-elegant (almost minimalist) design.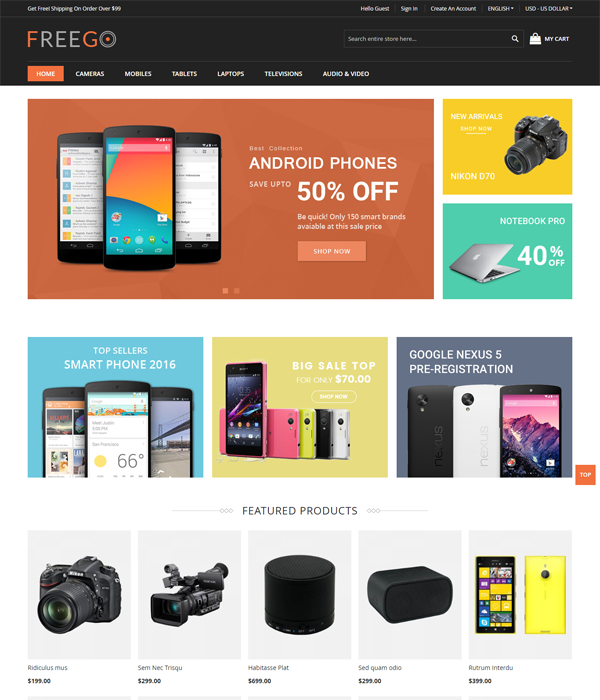 Moreover, FreeGo's fully responsive and puts a powerful back-end panel at your disposal. One that you can use for customizing your theme to suit your Magento 2 project in the slightest detail.
And now, when it comes to its "load" of powerful features:
 
sold out label extension
touch optimized slideshow
child theme ready
features product list (showcasing featured products)
child theme ready
all browser compatibility
off-canvas menu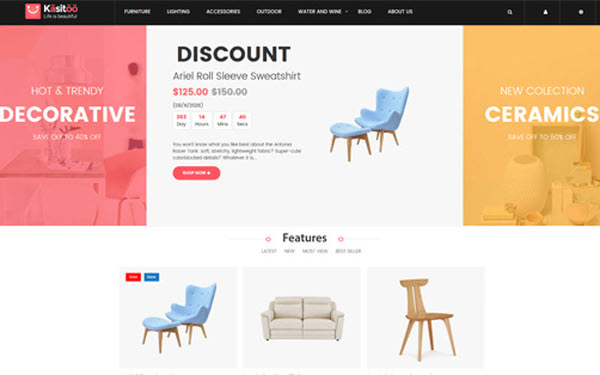 A Magento 2 theme with a product-oriented and therefore attention-grabbing design, perfect for the following types of online stores:
 
glasses
equipment
fashion...
 
Moreover, it's turbocharged with a plethora of advanced features to power your e-commerce website with:
 
retina-ready images
featured block on the homepage
touch optimized deal products carousel 
off-canvas menu
social media buttons
product tabs carousel 
 
If you have a "guilty weakness for cutting-edge, clear design, you'll definitely love this Magento 2 theme!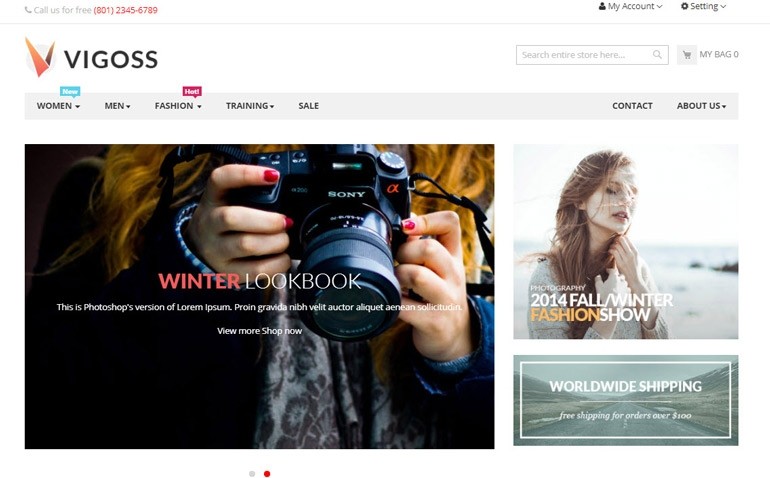 Apart from its great looks, it comes with a full set of outstanding features to tap into:
 
brand logo slider
Ajax cart
front interesting
quick view
it's fully responsive
checkout improvements
 
And to this list of features, I cannot but add the Magento 2.0 UI and the Bootstrap 3.x layout components, as well.
 
The END! So, now that you've scanned through this list of best free Magento 2 themes, which is the perfect fit for your own e-commerce web project? Which one of them supports all your feature needs?

We do Magento development
Go to our Magento page!
Visit page!