Repetitive (not to say boring), time-consuming... And it all gets even more cumbersome when you add more authors to the equation and you increase frequency to more than just 2 posts a week. Yes, I am talking about regularly sharing your blog posts on your social media. But what if you could just schedule them and create your own calendar? And automate the whole process? Then, the question that arises is:  "What is the best WordPress plugin for posting to social media?"
One perfectly equipped to:
 
cope with an above-the-average posting frequency 
work in the context of a multi-author WordPress blog
re-post old posts, as well
track the overall success of your posts
 
And there sure are lots and lots of "luring" WordPress plugins to schedule posts, so:
Which one best meets all your particular requirements?
Let me give you some clues here. 5, to be more specific:

WordPress' Default Feature for Scheduling Posts: Main Limitations
Let's not jump straight to the WordPress plugins to schedule posts for social media before we've evaluated what the platform's built-in feature offers us, in this respect.
For, you can very easily schedule your blog posts to social media in WordPress without the need of a plug-in solution.
Here's how this out-of-the-box functionality works:
 
you go to Settings > General, in your admin panel
you set your Timezone (since WordPress uses Universal Time by default)
next, once you're ready to hit the "Publish" button and launch your blog post "out into the wild", just hit the "Edit" button next to it
… and set the time and date that you'd like your post to be shared on social media
then, you click the "Schedule" button
 
And that's it! Your post will get automatically published according to your preferences of time and date.
But what if:
 
you'd need to go through this process several times... a day?
there are several authors posting on the same blog and, implicitly, sharing content on the same social media accounts?
 
For more complex expectations about your scheduler, you go with a plugin. With the best WordPress plugin for posting to social media, that should meet all your requirements.
 
A hands-off solution to rely on for both:
 
automating your posting on social media; from your WordPress blog straight to your social media networks
scheduling their publishing; you get to set a specific time for your posts to go live
 
It will automatically share your content on LinkedIn, Pinterest, Medium, Twitter...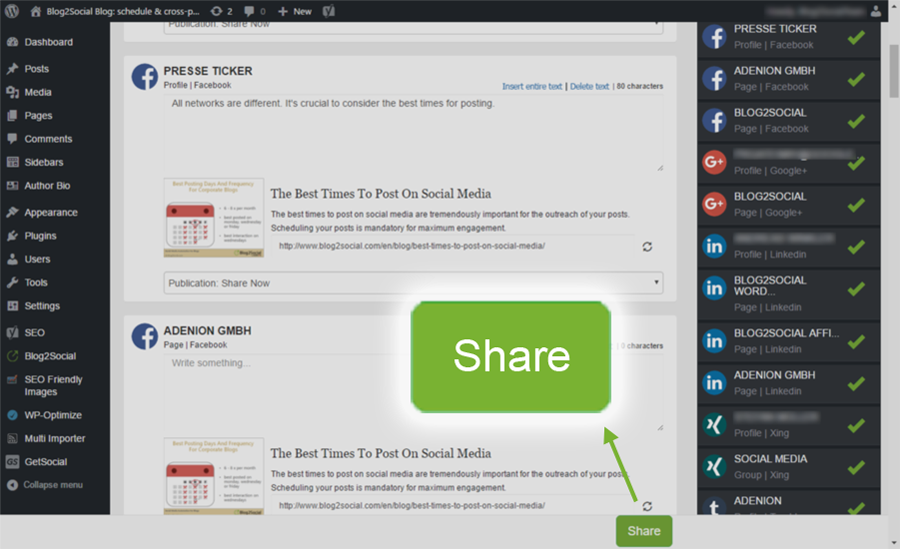 Screenshot: WordPress.org 

Features you'll love:
 
automated posting to several social media networks
setting the time and date that you want your posts to be published
tracking and monitoring your posts' success on each network
tailoring your posts' templates so that they fit each network's specifications
you're allowed to select the right images for your posts
automated re-publishing of your scheduled old posts
 
If this is not the best WordPress plugin for posting to social media, then it's definitely the most flexible one:
You get to configure it to the slightest detail; to fine-tune it till it meets even your "overly" specific needs. Moreover, it enables you to auto-share both new and older blog posts.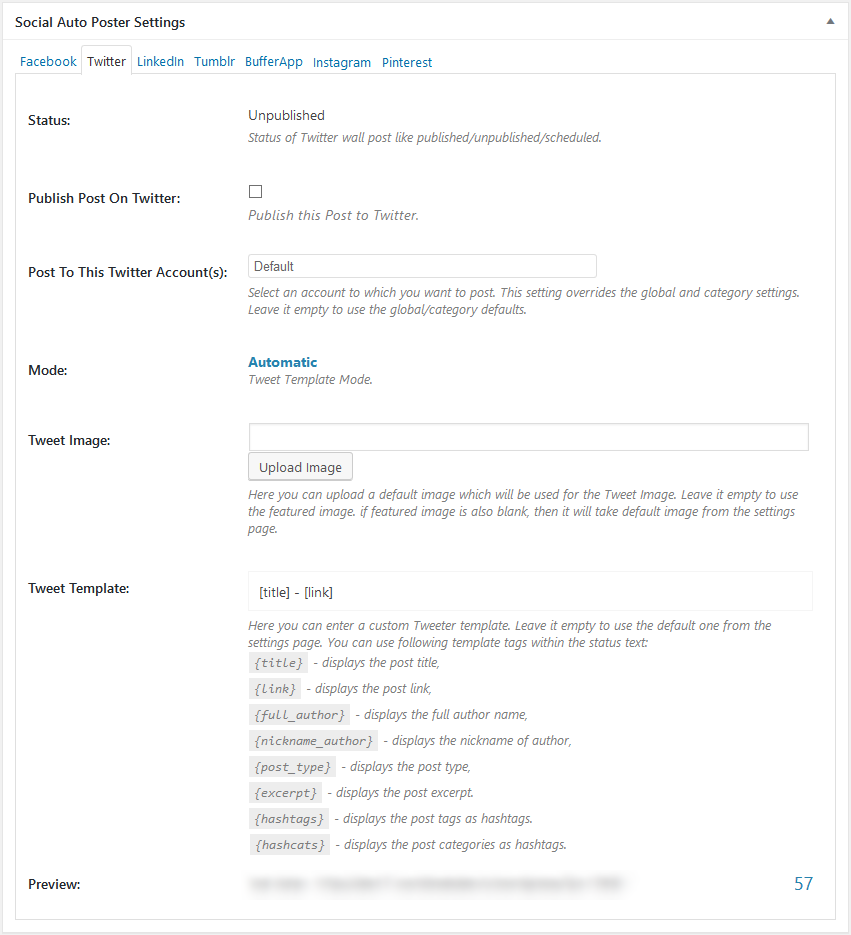 Screenshot: Codecanyon.net

Top features:
 
choosing the post type to be shared
auto-sharing new blog posts to those specific social networks that you will have selected
custom scheduling: set the most suitable days and hours for sharing content on social media
auto-posting to all your linked Facebook accounts
supporting any kind of format: post, eCommerce products, page, custom post type
 
A social auto-poster WordPress plugin that's conveniently compatible with a whole "plethora" of networks: Tumblr, Facebook, Twitter, Pinterest, Instagram... 
 
Here's another "must-check" WordPress plugin that's loaded with social media integrations.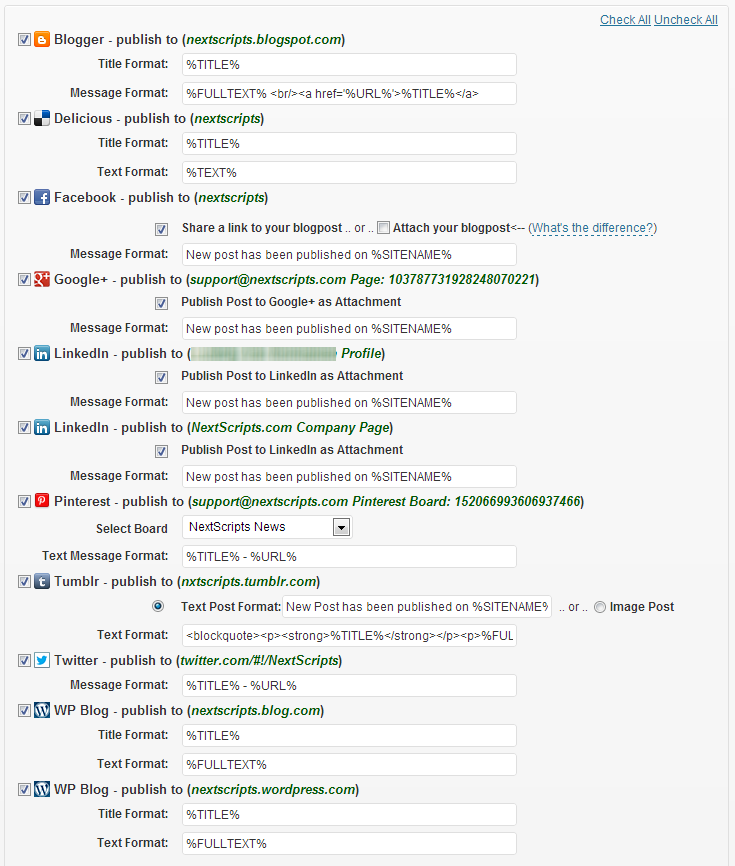 Screenshot: WordPress.org

Let us look over some of its "hard-to-resist-to" features:
 
automatically sharing both new and older posts
you're free to configure which posts should and which ones shouldn't get published
… and also the time and date for publishing them
you're also free to delay your scheduled posts
auto-importing mentions/comments from your social media accounts as WordPress comments
 
Is keeping the same level of consistency — through regular posting at... regular times of the day/week — getting a bit challenging? Maybe, at times, you have no fresh content to share with your visitors...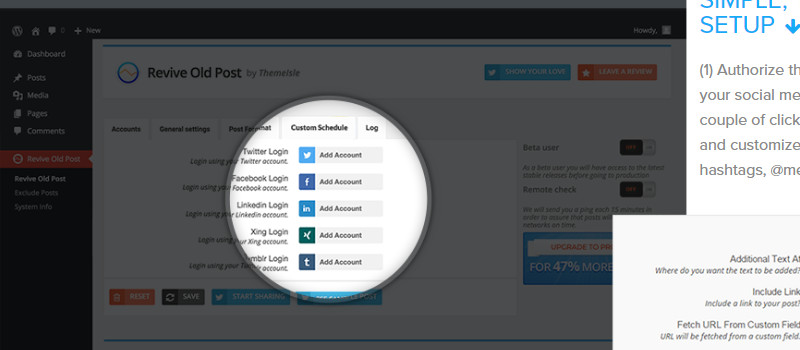 Screenshot: Revive.Social

Then how about bringing some of your old articles back into the spotlight?
Especially since you have Revive Old Post at hand, probably the best WordPress plugin for posting to social media.
Once you've set everything up, the plugin turns into a 100% hands-off solution. You'll be putting the whole process of re-posting old content on... autopilot.
But, let us go through some of this plugin's key features.
Basically, it empowers you to set:
 
the age of the posts to be re-published
the number of posts to be posted per day
the posting frequency
how many times the same old post can be posted
the format of the posts to be shared on social media
 
Note: once plugged in, the Revive Old Post enables you to track the traffic that re-sharing these old posts will bring on your blog, right in Google Analytics.
 
It makes the best WordPress plugin for posting to social media especially in the case of a multi-author blog. One with a high volume of content drafted for being published on a daily basis.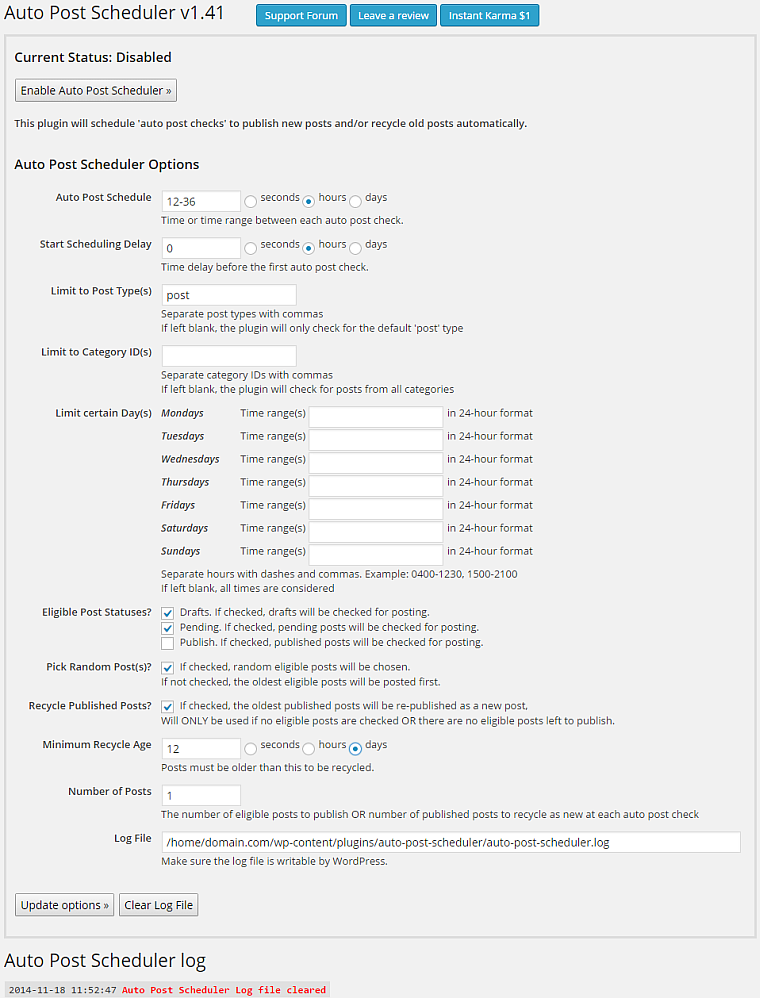 Screenshot: WordPress.org

Basically, it's one of those few WordPress plugins to schedule posts that takes the full process, with all its particularities, off your back:
From sharing scheduled posts, to recycling old posts to be published, it will automate all posting to social media-related operations.
The END! These are the top 5 WordPress plugins to schedule posts for social media that you should evaluate first when looking for the best social auto poster for your own website.
 

We do Wordpress development
Go to our Wordpress page!
Visit page!