Let's just say that the default product review system in Magento 2 is... well... not 100% satisfactory for you. It does have its limitations; there might be some particular product reviewing and rating features that it can't provide you with. So, you start looking for an extension to compensate for this... inconvenience. But which one to go with? What is the most suitable Magento 2 product reviews extension for your own eCommerce store's needs?
And it takes just a brief scanning of the large "pile" of Magento 2 extensions to start experiencing choice overload:
How do you know which one's the best for your eStore? Which one suits your own idea of an "ideal" reviews system?
But what if we narrowed them down to 5 choices only? The 5 best Magento 2 review extensions to start your searches with:
 
But First: The "Ideal" Magento 2 Reviews System —  Main Characteristics
What features should the reviews system on your eStore have to meet all your expectations?
Let me guess:
 
reviews should be accompanied by the customers' real names, photos and maybe even a link to their social media accounts, as well
customers should be able to rate products on a "pros & cons" scale
the reviews section should be easily noticeable on page
the reviews system should empower you with the proper tools to use for encouraging customers to insert informative, relevant reviews only
… needless to add that the UI of the add review screen should be highly intuitive
the reviews should show product photos, as well
the reviews system would enable you, the admin, to easily sort product reviews by relevance/helpfulness
 
The Default Magento Product Reviews Feature: How Does It Work?
Before we delve right into the mini pile of Magento 2 product reviews extensions that I've prepared for you here, let's see:
How does the default reviews functionality work in Magento 2?
On the user's side, he/she writes down his review in the text description field popping up once he's rated the product from 1 to 5.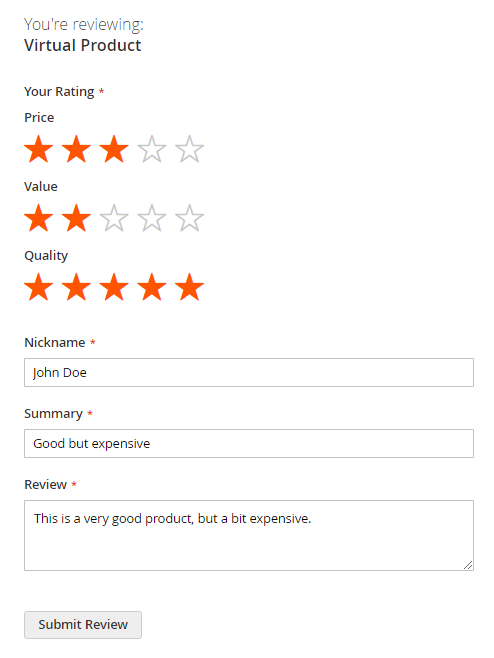 Whereas on the admin's side, you get to configure those ratings at Stores > Attributes > Rating, right in your Magento 2 admin dashboard.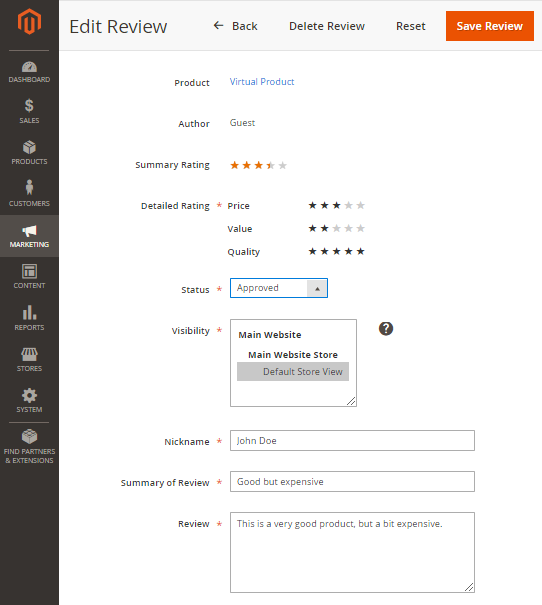 Images: Potatocommerce.com
 
You cannot run your evaluation of the best rated Magento 2 product reviews extensions and skip this module here.
Why? Here are the top reasons for considering it:
 
it provides a detailed product reviews system, with pros and cons
it makes it possible for the published reviews to be rated as helpful/unhelpful
… and to be shared across social media networks, as well
it features review captcha and report reviews, helping you minimize the risk of fraud and spam
it boosts the product reviews system with custom rating values (quality, price and so on)
 
A handy Magento 2 extension if you're "juggling with" multiple online stores.
Basically, it enables you to import/export product reviews from one eStore to another via CSV file. 
Note: while importing them, you, the admin, get to set their status using the CSV file
The extension's most valuable features:
 
it makes it possible for reviews to get transferred along with their titles and descriptions via CSV file
it supports a multi-store environment
it empowers you, the admin to approve/disapprove the submitted reviews
 
Another product reviews and rating extension for Magento 2 that you shouldn't overlook while determining your best option.
And here are some of its main functionalities: 
 
pros and cons 
reviewing the written feedback's helpfulness
uploading images to product reviews
the possibility to "lure" customers with different discounts/coupons for reviewing the products they buy
review reminders
adding comments to product reviews
sorting product reviews by rating
 
Another extension that has the potential to get you closer to that "ideal" Magento 2 reviews system of yours.
Here's how precisely:
 
it enables customers to upload images of the product review form (no registration required)
it's ideally easy to install & manage
you get to integrate the product review functionality through a widget
you, the admin, get to review the uploaded images' widths & heights
 
Now, could you imagine the reviews system on your Magento 2 website without a powerful review reminder type of tool plugged in?
I didn't think so...
They make such handy tools to help you encourage customers, via email reminders, to post reviews for the products they've bought.
Now, here are the key features of this specific tool here, an essential Magento 2 product reviews extension:
 
targeting specific groups of customers that you'd send your email reminders to
sending automated reminder emails
using coupons to entice customers to share their first product reviews and even choosing its template
cleaning log records automatically, after a specific no. of days
setting up the right time for sending the first reminder email
 
The END! These are the 5 best Magento 2 review extensions to add to your shortlist and start your "research" with. 
 
feature-rich
powerful
easy to set up and customize on your side
easy to use on your customers' side
 
… each module, taken separately, injects those product reviews functionalities into your store to help you enhance the built-in reviews system that the platform provides you with.

We do Magento development
Go to our Magento page!
Visit page!