In 2021, it is expected that about 27.2% of the world population will shop online at least once. 
A lot of potential customers out there, right?
As eCommerce is becoming the new norm, digital businesses seek out ways to thrive in this competitive landscape and position themselves as leading trend-setters. 
To do that, companies need to realize the power of digital transformation and how they can embrace it in order to support the modern demands of speed and accessibility that customers require today. 
This starts with leveraging the right tools for building robust digital assets. One of these tools is represented by eCommerce platforms, which are getting increasingly popular for businesses that seek to deploy an eCommerce system. 
Drupal Commerce and Magento are two of the leading eCommerce solutions on the market and are often seen as direct competitors in the industry. 
This article provides a side-by-side comparison of these two platforms in regards to technical capabilities, development, costs, scalability, security, and mobile responsiveness. Hopefully, this information will help you narrow down your choice in order to ensure that you choose the best fit for your business needs. 
Key eCommerce Capabilities Enabled by Drupal and Magento
Drupal Commerce was released in 2011 and offers an open-source application framework that supports retailers in building and managing inventory, track orders, or handle payments. 
Magento's initial release was in 2008. This PHP-based eCommerce site provides high levels of PayPal protocol integration and supports 12 worldwide payment gateways. 
Both platforms offer, through native features or third-party add-ons, the following benefits:
Intuitive, easy-to-use user interface and control panels. No technical knowledge is required to customize and edit basic features.

Full-featured CMS that supports social sharing.

Business-centric structure for online stores.

Native integration of inventory-driven advertising material

Integration capabilities with third-party analytics, invoicing, or quoting solutions
One thing to keep in mind is that neither of these eCommerce platforms is a "plug and play" solution and making the most out of their potential may require further expertise. 
Headless eCommerce
The headless version of Drupal Commerce has been in the spotlight in the last few years. This new initiative is an eCommerce solution that stores and delivers content without a front-end delivery layer. It's an API-driven implementation that transforms eCommerce functionality, making it available across a wide range of potential host environments. 
A headless eCommerce model inclines towards a more SaaS-oriented, platform-agnostic solution that allows for better employee adoption and considerable time savings across IT departments. 
When it comes to Magento, the open-source eCommerce platform, headless eCommerce is equally prioritized. Both Drupal Commerce and Magento are supporting headless models as the future of eCommerce. 
Pricing
Drupal eCommerce's technical cost of entry is free. However, depending on scope and scale, the costs of developing and maintaining performant and secure eCommerce servers might reach tens of thousands of dollars. 
Drupal Commerce project costs are directly proportional with a business needs for specific development architecture, module integrations, custom theme styling, or particular feature integrations. 
Magento's newer modules are not offered as open-source and upgrading from Magento Open Source to Magento Commerce might be challenging. 
From this financial point of view, Drupal Commerce seems to be a clear winner. 
Scalability
Drupal Commerce has relevant capabilities of staying highly performant at scale. However, this CMS platform does not provide out-of-the-box database sharding and it can only be implemented on a third-party basis. 
Drupal Commerce has lower requirements than Magento Commerce when it comes to the web server—the minimum required RAM for PHP is 64 MB and production systems usually require 128 or 256 MB. 
Drupal Commerce-based implementation splits the eCommerce experience across three related Drupal domains. As a result, scaling is better, bottlenecks are eliminated, and the content and purchasing experiences are efficiently separated. 
On the other hand, Magento's cloud hosting solves a large number of scalability issues, although at a higher price. The minimum RAM requirement of 2 GB will probably not scale well and distributed networks or caching may need to be deployed with greater care to keep up with the heavy load. 
Security
Drupal is proven to be the most secure CMS and Magento's infection rate is much higher than Drupal's. From the point of view of security, Drupal Commerce is a winner for businesses that want to prioritize secure platforms.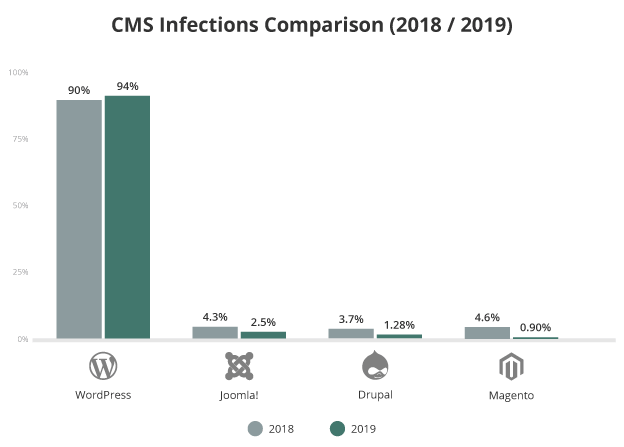 Source: Sucuri.net
Mobile Responsiveness
As most websites transition to a mobile-first approach, eCommerce platforms that prioritize mobile responsiveness are a must. 
Fortunately, both Magento Commerce and Drupal Commerce provide robust mobile capabilities to satisfy the need for accessibility and performance. 
Drupal Commerce's themes allow building a fully responsive design for eCommerce websites and offer screen flexibility for creating versatile experiences.
The most popular themes like Corolla or eStore provide:
Multi-level responsive header menus

Custom layouts and color options

Box shadow and background textures

Custom field additions
Magento Commerce is close to Drupal when it comes to mobile optimization capabilities. Its responsive web design features help users create optimal viewing experiences for multiple devices. Magento Blank or Luma are out-of-the-box themes that deliver a fully responsive design.
Who's the winner for eCommerce?
While both Drupal Commerce and Magento Commerce are reliable options for a digital company that wants to thrive in the eCommerce market, every business has its own unique needs and requirements. Choosing the software that best supports these needs is a process that involves a lot of research and planning. 
If you want to speed up this process and ensure that you reach the right decision, don't hesitate to contact Optasy for professional Drupal and Magento 2 services in Toronto. 
Discover which platform is most suited to provide a robust eCommerce experience for you and your customers. 

Photo credit: Mark Konig on Unsplash. 



 

We do Web development
Go to our Web development page!
Visit page!