Say you've invested so much time and effort to come up with this valuable content for your website. And now you don't want to be all altruistic and share it with everybody. Instead, you plan to grant access to it to logged in members (or paying subscribers) only. So, you start looking for a plugin for access control. But what is the best membership plugin for WordPress?
The most suitable one for your specific feature needs as a membership website owner...

For your own scenario, which might require that:
 
members be enabled to administer their profiles straight from your website's front-end page
admins be allowed to easily track down members using specific meta information (e.g. "category")
your plugin support multilevel membership functionality (logged-in member, paying logging-in user, admin, editor etc.)
your WordPress plugin support dripping so that your content gets "served" according to a strict time schedule 
you don't need to get tangled up in code writing and customization work
members be enabled to CRUD their custom post type content (galleries, events, posts, reviews)
 
Oh, and yes:
You might also expect this WordPress membership plugin to accommodate a decent number of members (approx. 800-100?), be easy to set up and to get updates, too.
Now, here are the 5 most powerful free WordPress membership plugins and WordPress paid membership plugins that you should weigh first: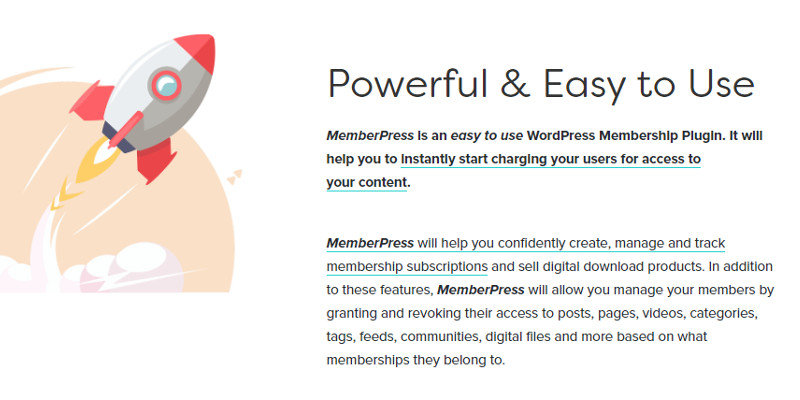 It's the equivalent of "vanilla ice cream" among membership plugins for WordPress.
I mean, it easily checks all the checkboxes on your "must-have features" list:
 
easy to set up
easy to use
feature-packed
rich documentation and stellar support
 
And speaking of its load of features, let me outline some of the most powerful ones:
Easy setup
From setting up pricing and login to adding membership plans and putting together "Thank you" pages for your members, setting everything up gets ridiculously easy with this plugin.
Subscription management
The plugin empowers your members to create and update their own membership subscriptions.
Content dripping
It enables you to "disclose" content to your members according to your time schedule. 
This feature is particularly valuable if it's learning material or online courses that you provide on your WordPress website.
Content Access Control
And restricting access to certain content on your website is the essential feature of any WordPress paid membership plugin, right? In this respect, MemberPress provides you with flexible access control:
You get to limit (or "condition", if you prefer) access to specific tags, blog posts, files, pages, categories on your website. 
Payment Gateways
The plugin comes equipped with built-in support for Stripe and Paypal payment gateways. 
Need Authorize.net integration, as well? Then you'll need to first upgrade to Developer edition.
Integrations
Here are some of the third-party services that it easily connects with:
 
Amazon Web Services
MailChimp
Aweber
BluBurry
GetResponse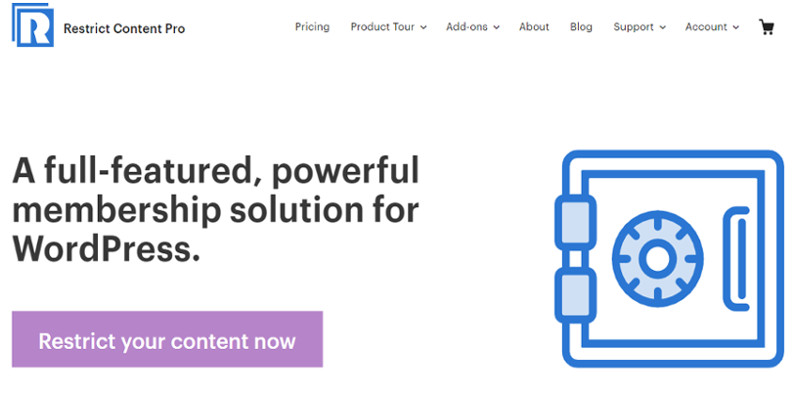 Why does this plugin stand high chances to be the best membership plugin for WordPress?
We can cut down all the reasons down to... 2 heavy-weighting ones:
 
it's conveniently simple: easy to set up and easy to use
it's ideally flexible: it comes with built-in interrogations, add-ons and pro add-ons; you're free to add exclusively those features that you need
 
And now, let's detail some of its key features:
Easy to use
I'll only say one thing:
It seamlessly integrates with WordPress UI... 
Built-in integrations
Some of the most tempting ones are:
 
PayPal
MailChimp
Stripe
CSV export
email manager
MailPoet
 
… that other plugins would provide you with as paid add-ons.
Add-ons
You get to extend its functionality, free of charge, with specific extra features that you might need.
And I'm referring here to:
 
force strong passwords
download monitor
multiple email marketing integrations
 
Pro add-ons
If your feature needs are higher, you can always go for the professional or ultimate plan and "indulge" in some pro add-ons.
Here's just a sneak peek into the "pro add-ons menu":
 
WooCommerce member discounts
restrict past content
drip content
restriction timeouts
 
Payment gateways
Is it Braintree, Stripe or maybe Paypal that you need to integrate with your website?
Stay assured: they all come as free add-ons...
Should I also add that Restrict Content Pro has won the reputation of a developer-friendly WordPress plugin for membership websites?

3. Ultimate Member, The Best Membership Plugin for WordPress Community-Like Websites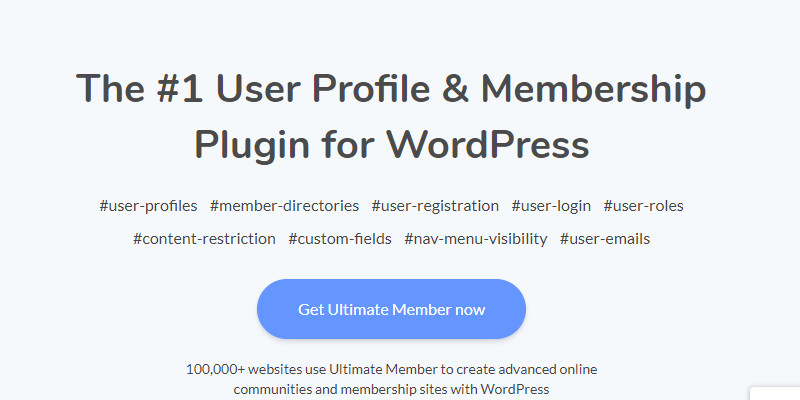 Disclosure:
Ultimate Member is the perfect fit for community-like websites, where you'd focus more on the social aspect of membership rather than on selling paid memberships.
For instance: it doesn't come with a built-in paid membership functionality that you could leverage.
It's perfectly true that you could go for an add-on to hook it up with WooCommerce (e.g. Um-Switcher). But wouldn't it be more straightforward to opt for another WordPress paid membership plugin then? One geared specifically at selling paid memberships?
So, back to the major strengths of this free WordPress membership plugin:
Is is a social community that you plan to build? One depending on multi-tiered membership functionality? Where each member would administer its own account?
Then Ultimate Member will make your perfect ally.
Here are some of the features that makes it perfectly suitable for "social community building" scenarios:
Content restriction 
From:
 
enabling you to restrict the entire WordPress site
to limiting access to specific blog posts, pages or categories,
to controlling which menus to be served to each user roles
 
... this plugin "spoils" you with unmatched flexibility.
Still, do keep in mind that large scale content restriction, although powerful, is not its defining feature. Building communities is...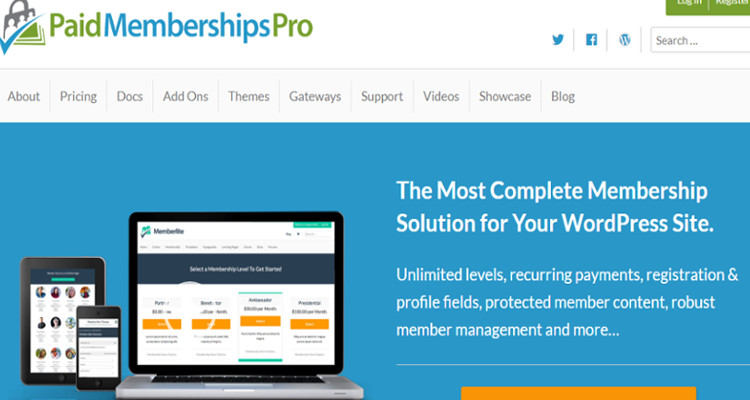 Looking for the best membership plugin for WordPress focused on the subscription selling aspect?
Here's your winner!
Unlike Ultimate Member, Paid Membership Pro is designed to power subscription-based websites. It makes your conveniently powerful tool for... collecting payments from your members.
And, branching out from this particularity, the are features such as:
 
accommodating thousands of members
enabling you to put together a whole "ecosystem" of membership levels (weekly, monthly... payments)
granting access to discounts, e-learning materials, private communities on your websites to members only
supporting updates
 
Content restriction 
Is it particular pages or posts that you want to limit access to? It's as easy as checking... the due checkboxes.
Is it entire content categories that you want to restrict? Paid Membership Pro has got you covered.
If, let's say, you need to restrict a certain widget or an individual video on a web page, feel free to use shortcode or PHP functions to narrow down your focus.
Payment gateways
Authorize.net, Paypal, CyberSource, Stripe, 2Checkout, CyberSource... What payment option do you need to integrate into your website?
Note: you can always process the membership checkout through WooCommerce instead.
Third-party Tools integration
From AffilliateWP to MailChimp, to Kissmetricts... you have a whole list of third-party services to choose from and integrate with your membership website.
Content dripping
Not in your interest to serve all your restricted content all at once to your subscribers?
Then... don't!
This plugin enables you to "drip" your valuable content based on a time schedule. 
You could set up a "Series" gradually unlocking content depending on the number of days passed since a member registered on your website.
Paid Add-Ons
A bit more... needy when it comes to the specific functionality that you'd want to "inject" into your membership website?
Then, go for the paid version and unlock the 60+ add-ons available. Let me point out just a few of:
 
Zapier integration for automation 
different email marketing services integrations
Slack notifications
email notifications
selling access to particular pages/posts as an add-on package
affiliate program integrations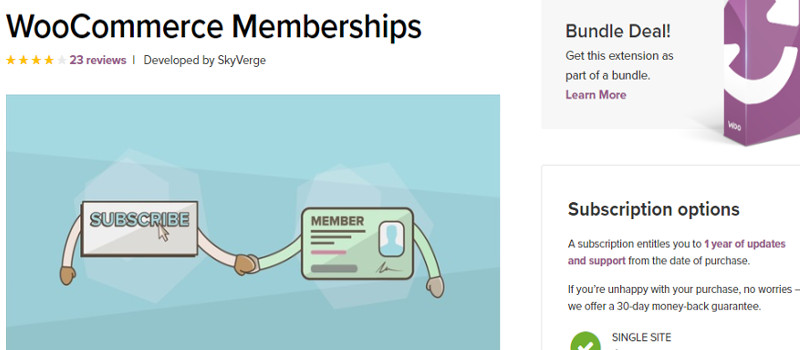 How many of the here-below checkboxes would you check?
 
you already have an e-commerce website
it's a feature-rich plugin that you're looking for
… one to reward your subscribers with various discounts
you're looking for a plugin that easily and seamlessly integrates with WooCommerce
 
If you've ticked them all, then you might want to weigh the standout features of this WordPress membership plugin for WooCommerce:
Unique options 
Unlocking special discounts, granting content access upon a product purchase, limiting product viewing to members only... This plugin comes with quite a few "surprise" features that you won't find in any other of its "rivals" on this list here.
Different membership levels
You get "spoiled" with lots and lots of membership options that keep on... further multiplying if you decide to integrate with WooCommerce Subscriptions, too.
This way, you'd gain even more control over free trials, drip content, recurring payments, for instance.
Access Control 
You're free to limit access to specific blog posts, pages and other content types on your website.
The END! 
By now you must have realized that:
It's not "the best membership plugin for WordPress" that you need, but the most relevant one for your own membership website. For your specific requirements and feature needs.

We do Wordpress development
Go to our Wordpress page!
Visit page!